Grace Hollister is vacationing (under guise of researching her dissertation on the Romantic poets) in the English Lake District when she stumbles upon her first (but not her last) body in High Rhymes and Misdemeanors. Before long she's involved in kidnapping, murder, and the hunt for what she firmly believes is a lost work by Lord Byron.
She also becomes involved—against her better judgment—with former jewel thief (now semi-law-abiding antiques dealer) Peter Fox.
Read an excerpt.
"Light, charming... An entertaining romp through a beautiful part of Britain.
– Dallas Morning News
April 2014, Girl Detective
Available in ebook, print and audio
Versos Y Faltas
(Spanish edition)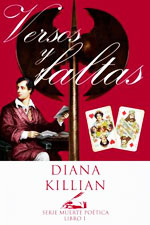 February 2015, Babelcube
Translated by Rosa Sanz
Available in ebook