At Sacred Balance yoga studio, new owner A.J. Alexander is still struggling to help her clients feel heavenly.
But it doesn't help when the charismatic new preacher in town, Reverend David Goode, is going around telling everybody that A.J.'s sending them straight to hell...
Until he ends up dead, that is, and A.J.'s her hot-tempered former partner, Lucy, is charged with his murder.
Now A.J. really has to stretch her sleuthing skills to the limit.


"This is the kind of story that began my interest in mysteries: great setting, engrossing story, plenty of suspects, and characters to care about. I look forward to more from this talented author."
-- Deborah Hern, CA Reviews
"More twists and turns than the most difficult yoga position."
-- Madelyn Alt, author of Where There's a Witch
"A winning heroine that will appeal to many fans."
-- The Mystery Reader
Death in a Difficult Position
Mantra for Murder #4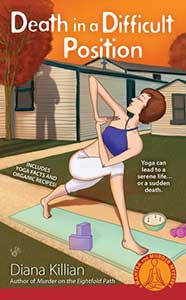 April 2014, Girl Detective
Available in ebook and print.
Audio coming soon.